Hi everyone! I am super grateful that a great bunch of ladies are stepping in for me while I'm away! Some you might know already, and hopefully, some might be new to you. I think all of them are FANTASTIC, and each has such a unique and interesting voice. I hope you like all of their fabulous guest posts as much as I do, and be sure to pop over to their own blogs to check out more from them!
First up is the lovely
Sarah
. Sarah is a midwestern lady like myself, living in Kalamazoo, Michigan. My husband is pretty much obsessed with
Bells Beer
, so hopefully we'll take a trip to the brewery sometime and can say hi to Sarah while we're at it!
++++++++++++++++++++++++++++++++++++++++++++++++++++++++++++++++++++++++++++++++++
Hi there! I'm Sarah, and I blog over at
Exploring Woods
. I'd like to thank Sondra for inviting me to take over her blog for the day! I'm sure she's having a wonderful time in India, and I can't wait to hear about her trip when she gets back!
Today I'm going to share a recipe with you for some yummy banana bread granola bars. I found this particular recipe while browsing Pinterest not too long ago. The website Pinterest linked me to and that I used the recipe from can be found
here
, but reading further took me to the original recipe which is just
slightly
different, in that it has less brown sugar, and she added chia seeds; that can be found
here
. I'll post the recipe that I used though (more sugar's a good thing, right?).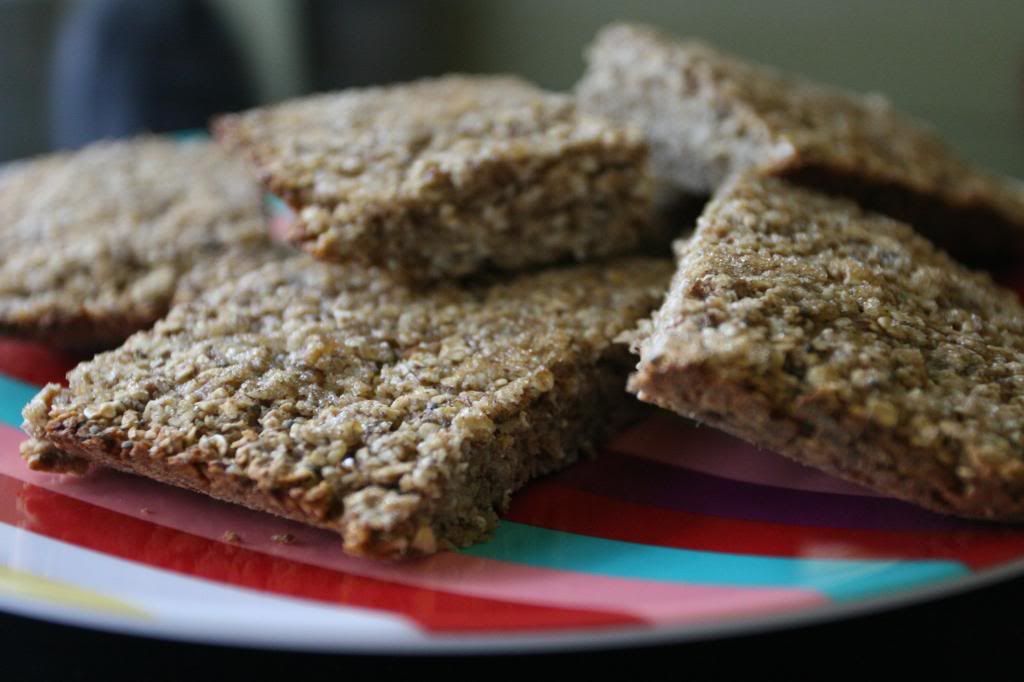 banana bread granola bars
1 very ripe banana, mashed
1/4 cup unsweetened applesauce
2 tbsp honey
1 egg white
1 tsp cinnamon
1/2 tsp vanilla extract
1/2 tsp salt
3 tbsp + 1 tsp brown sugar
2 cups rolled oats
2 tbsp milled flax seed
1 tsp chia seeds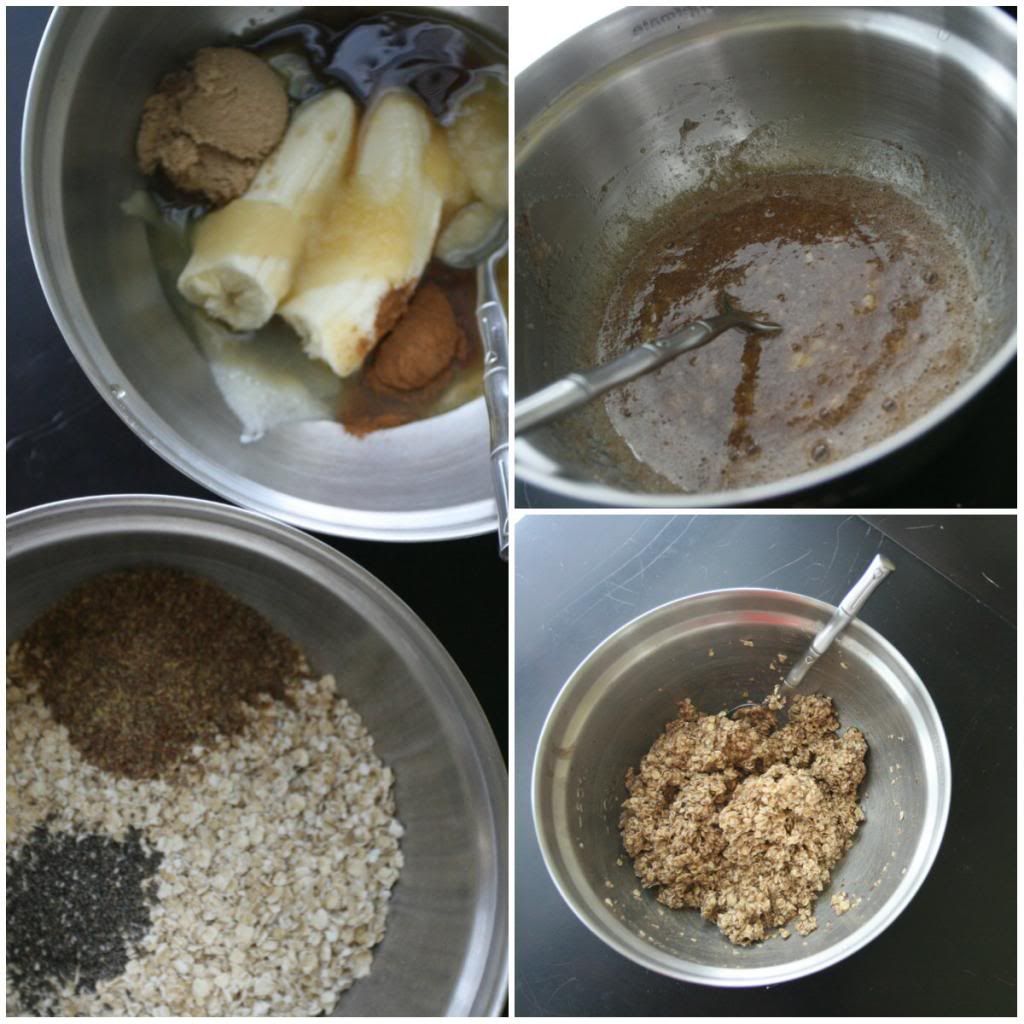 Preheat oven to 350 degrees F and spray an 8x8 baking dish with non-stick spray.
Combine the banana, applesauce, honey, egg white, cinnamon, vanilla extract, salt, and 3 tbsp brown sugar in a large bowl.
In a separate bowl, whisk together the rolled oats, flax seed, and chia seeds. Add to liquid mixture and stir until well combined.
Press mixture into prepared baking dish and sprinkle with remaining 1 tsp of brown sugar (I patted it down to make sure it didn't fall off while eating.) Bake for 30-35 minutes.
Once done, invert onto a cooling rack and allow the bars to completely cool before slicing.
These granola bars turned out so yummy, and the batter smelled heavenly while mixing it up. The recipe says it makes 8 bars, but I cut 6 large bars instead. Really, it's just however many you want to cut them into from an 8x8 pan. They're pretty healthy, so don't feel bad for eating one or two. ;)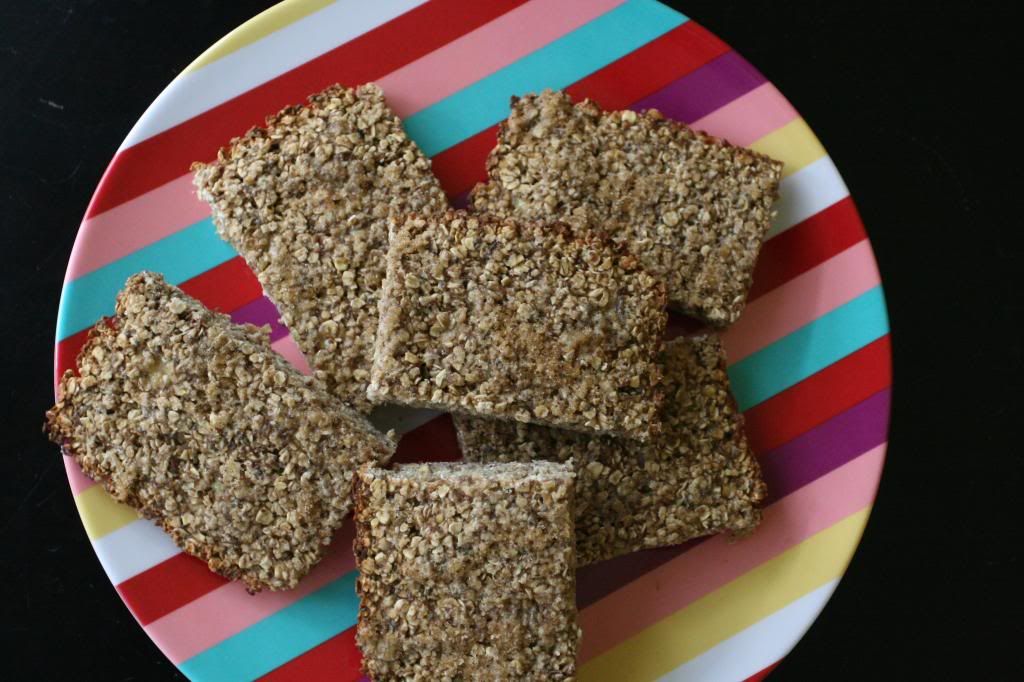 Hope you enjoy the recipe, and have a great day!
++++++++++++++++++++++++++++++++++++++++++++++++++++++++++++++++++++++++++++++++++
These look AMAZEBALLS, right? These look perfect to take on our next hike! Plus, banana bread is pretty much one of my favorite things in the whole world, so these are surely delicious. Thank you so much, Sarah, for sharing these!
shanti >> sondra